Move beyond self-doubt.
Objection: ''I am not good enough.''
with Dr. Andrea Pennington
The playback window for this video interview has passed. Make sure to keep an eye on your Inbox for updates!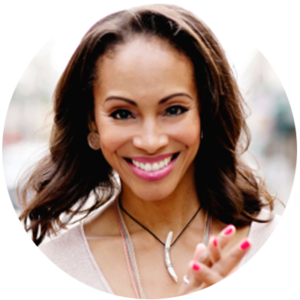 Dr. Andrea Pennington (@DrAndrea) is an integrative physician, acupuncturist, meditation teacher and conscious communication specialist. She is also a #1 international bestselling author, highly acclaimed 2x international TEDx speaker, invited professor at the University of Monaco, and mentor for the Global Institute for Extraordinary Women.
As a sought-after media personality for the last two decades, Dr. Andrea has shared her candid, empowering insights on vitality and resilience on the Oprah Winfrey Show, the Dr. Oz Show, iTV This Morning, CNN, the Today Show, LUXE-TV, Thrive Global and HuffingtonPost and as a news anchor for Discovery Health Channel. In her role as a documentary filmmaker she has produced a 4-part documentary series entitled Simple Steps to a Balanced Natural Pregnancy.
Dr. Andrea has appeared in several newspapers, magazines and online publications including Glamour, Essence, Ebony, Newsweek, The Sun, Red, and Stylist. She has also written or contributed 10 books and her latest book , I Love You, Me! explores her personal journey from depression to real self-love. Dr. Andrea's multimedia content experience, The Orgasm Prescription for Women, has been touted as one of the most comprehensive sexual and emotional health books of today.
Now as host of the daily talk show, Liberate Your Authentic Self  where she brings her insight and inspiration for purposeful living, conscious relationships & soulful success. And as host of  Sensual Vitality-TV she brings her unique 'nerdy' blend of medical science, positive psychology and mindfulness meditation to empower women to show up authentically, love passionately and live orgasmically.
In addition, Dr. Andrea is a renowned personal brand architect, media producer and communications specialist. Leveraging her 20+ years of experience in broadcast and digital media she proudly helps people bring their brilliance to the world through publishing and media production with Make Your Mark Global Media.
As shared in her inspiring TEDx talk entitled 'Become Who You Really Are', she explains that recovering from a long history of depression and anxiety came when she learned to love and express her authentic self. Her second TEDx on mindfulness and meditation elaborates on how to create a stress-resistant personality with the top 10 traits of highly resilient people.
Dr. Andrea is the creator of The Attunement Meditation Process, a 5-step mindfulness meditation taught online and used around the world to lower stress, boost resilience and enhance sensuality and orgasm capacity. Her popular 21-Day Compassion Meditation Series is also useful in breaking down barriers to self-love and deep intimacy.
Visit Dr. Andrea online at:
AndreaPennington.com, www.RealSelf.love, MakeYourMarkGlobal.com, and SensualVitality.tv